I admit I was one of those women who never got a flu shot when I was pregnant.  After reading this article, I understand why it is so important for pregnant women, and new moms to get their flu shot.
Half of pregnant women don't get flu shots, putting themselves and their child at risk of severe flu.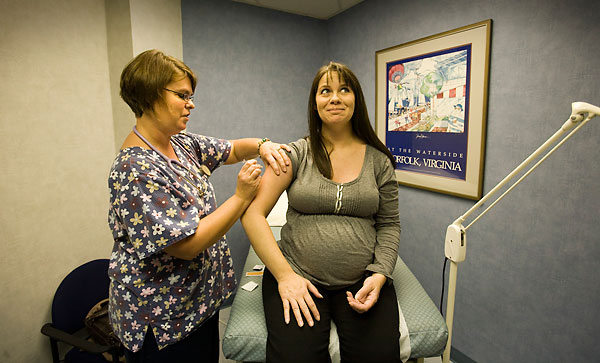 The finding comes from a CDC survey showing that during last year's flu season, 53% of pregnant women did not get the seasonal flu vaccine. That's about the same percentage seen in the two previous flu seasons.
They're taking big risks, Laura E. Riley, MD, director of obstetrics and gynecology at Massachusetts General Hospital, said at a news teleconference held by major U.S. medical groups.
"We know pregnant women have a five times higher risk of getting very ill if they get the flu during pregnancy or immediately after they deliver," Riley says. "Unfortunately, we have seen women lose babies when in that condition."
Last year's flu season was one of the mildest on record. Yet Riley said one of the flu patients she saw was a healthy woman with an uncomplicated pregnancy. When she came into the emergency room, she was 26 weeks pregnant and not feeling well.
Even though the patient was a doctor, she had not had a flu shot. And she refused an offer of Tamiflu, saying she hadn't read the medical literature showing that the flu medication was safe to take during pregnancy.
"In about six hours she started to look toxic and got admitted to intensive care," Riley recalls. "She got sicker and sicker and spent five days on a ventilator. The baby did not survive."
Pregnant women who get flu shots protect their children even after birth, notes William Schaffner, MD, chair of preventive medicine at Vanderbilt University School of Medicine.
"By getting vaccinated you protect not only yourself but your newborn during those first six months of life when a baby cannot be vaccinated," he said at the news conference. "A woman passes [flu antibodies] through the placenta to her newborn."
So why don't more pregnant women get flu shots?
"We talk to pregnant women a lot about 'You can't eat this or take that,' and it is a bit of a tough sell for a pregnant woman to allow someone to inject a vaccine into her arm," Riley says. "Now many studies show it is safe. But it has taken us a while to get the message out that we are preventing a very serious disease and protecting your baby."
Litjen Tan, MD, director of medicine and public health at the American Medical Association, notes that pregnant women whose doctors recommend getting a flu shot are five times more likely to get it than when doctors don't give this advice in a clear, direct way.
Indeed, the CDC survey shows that when doctors both recommended a flu shot and offered to give one, 74% of pregnant women got the shot."
I am afraid of needles.  Always have been.  During my pregnancy, I had a nurse tell me, "Once you have that baby, you won't be afraid of needles!"  She was wrong.  I'm still afraid of needles.  However, I realize that I should get a flu shot this season.  Fortunately, I learned that CVS is now offering a flu shot that has a 90% smaller needle!  It's called an intradermal flu shot, and it looks so teeny tiny!
I think maybe, just maybe I can brave this one!  :)
Here is an article about this brand new type of flu shot …
A Flu Shot for the Squeamish
Squeamish about getting a flu shot? You may be in luck.
This fall, people seeking flu shots may be able to skip the big, scary needle and choose a new short-needle flu shot, called Fluzone intradermal.
Fluzone intradermal uses a shorter, thinner needle called a microneedle to give flu shots just under the skin, rather than deeper in the muscle like standard flu shots.
The shots' manufacturer, Sanofi Pasteur, said the microneedles are less than one-10th of an inch long and are about the width of a human hair. Standard flu shots are given with needles up to one and a half inches long.
Dr. William Schaffner, chairman of preventive medicine at Vanderbilt School of Medicine, said that when he tried a short-needle shot earlier this year, he barely felt it.
"It is truly ouchless," he said. "The immediate inoculation is virtually imperceptible."
He added that delivering the shot to the skin instead of the muscle can help patients avoid the deep muscle ache associated with a standard flu shot.
The shot delivers the vaccine to a layer of cells just underneath the surface of the skin, called dendritic cells. Dr. Ralph Tripp, professor of infectious diseases at the University of Georgia, said this is an ideal spot for a vaccine, since these cells deal directly with the body's immune system.
"These cells can substantially enhance vaccine presentation to the immune system," he said.
Earlier this year, the Centers for Disease Control and Prevention recommended that everyone over the age of 6 months should get a flu vaccination this year. Schaffner said the new short-needle option may help convince more people to get their flu shots.
"Whenever we do surveys concerning reluctance to get vaccinated, needle aversion is right at the top of the list, even among health care providers," he said. "Every time you reduce a barrier like this, you increase the likelihood that people will get vaccinated."
Although people may feel better about avoiding a longer needle, the side effects for short- and long-needle shots are about the same. According to the Food and Drug Administration, patients reported pain, redness and swelling at the site of the injections with both short and long needles, although these symptoms were a little worse in patients who used the short-needle shot. Other side effects included fever and some muscle aches.
The new shot saves more than discomfort at the doctor's office. It also uses less of the vaccine than a standard shot. But despite the lower dose size, clinical trials of the shot showed it to be just as effective.
"This is really great since it would mean that when vaccine is in short supply that we can manage to provide vaccine to more people," said Joan Nichols, who studies infectious diseases at the Galveston National Laboratory of the University of Texas Medical Branch.
The short-needle shot will not be as widely available as other forms of the flu vaccine. Sanofi, the maker of the short-needle shot, said it plans to ship a limited amount of the new microneedles in about a week, but they will be available nationwide.
The shot is approved only for adults ages 18 to 64, so it's not available for needle-shy kids. But children can avoid needles with the nasal spray form of the vaccine, called LAIV, which is approved for anyone ages 2 to 49. Adults over the age of 65 still have to rely on the standard long-needle shots, but special doses can give people in this group four times the immunity of a standard shot.
"It's wonderful to have choices," Schaffner said. "The hope is that having these choices will make getting the flu vaccine even more attractive."
By CARRIE GANN
I hope that any needle-phobic moms out there will take comfort in the fact that there is a MUCH smaller needle available that will be painless!  I suppose I should make a trip to CVS and get my flu shot.  I hope that you do, too!  Please let me know how it goes for you! ♥
One last thing... please subscribe to my blog. This will be the easiest way to stay updated. Once subscribed, you will get an email when I make a new post. Thank you!